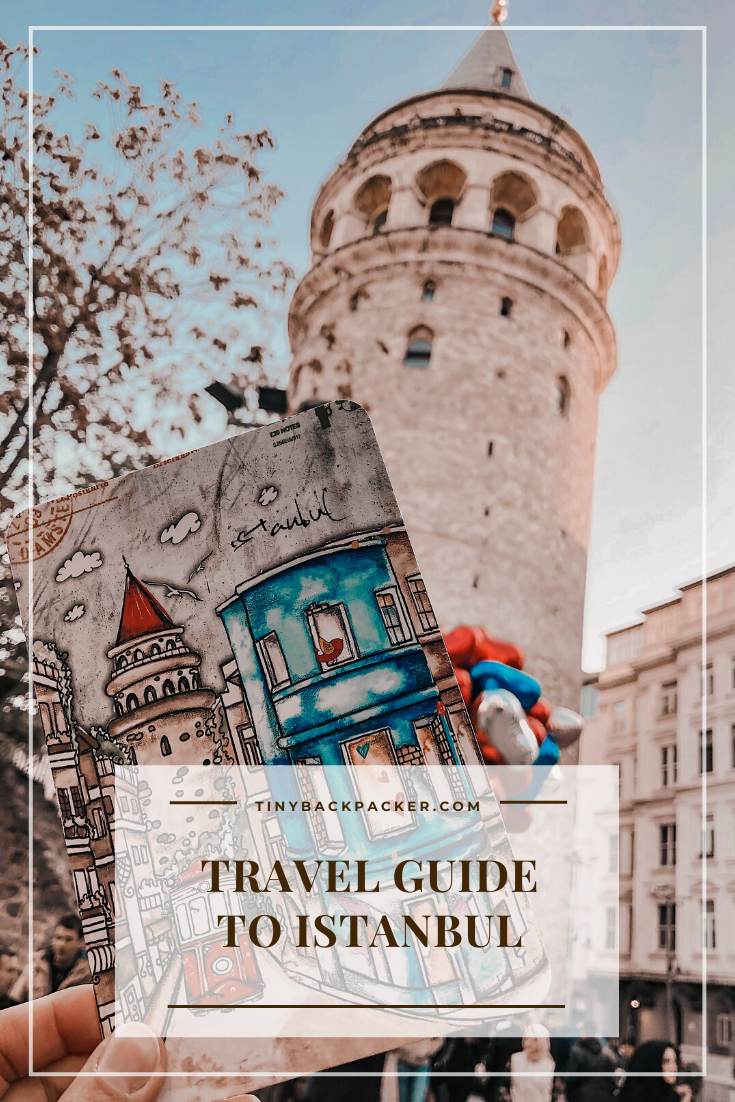 Travel Guide to Istanbul | All you need to know for first timers
January 3, 2020
Last December I had 5-day vacations to travel alone, I chose to visit Istanbul since it's not too far from Germany. Also, I heard that Istanbul should be really beautiful and fun to travel around. (I can only agree with it!)
This article will share with you some general information about traveling in Istanbul, how I got from airport to my hostel, where did I stay during the trip and what are the must-visit spots you should go while you travel to Istanbul.
General Information when you travel to Istanbul
Visa Application: As a taiwanese I need to apply for an e-visa in order to travel to Turkey. However, this e-visa is very easy to apply online and it's free of charge. Before you visit Turkey, make sure to check if you also need a visa! Here is the official website to apply for an e-visa: https://www.evisa.gov.tr/en/
Credit Card: A friend of mine used to live in Istanbul and told me that it's very convenient to pay with a credit card in Istanbul. I did use it most of the time when I visited museums, restaurants and stores. This way I don't need to carry too much money and I can always check and know how much I've already spent. However, it's still recommended to carry some cash, since the food from the food stand is really cheap and you don't really want to pay that with your credit card.
Sim Card: I like to be online and it's very convenient to check directions or restaurant information anytime and anywhere. There are several telephone providers selling good deals to tourists at the airport. Just check and compare which one is more suitable for you and buy it. The employee will help you to do the setting. (I bought my sim card from turkish telekom.)
Istanbul Card: I highly recommend you to buy this Istanbul Card. You can use it to pay for any public transportation (including the airport shuttle bus). You can buy the card at the airport or at any train/metro stations. By using Istanbul card, you get to save money (The price per ride is cheaper than a single ticket you buy at the ticket machine.) and save your time!
Bargain: Don't forget to bargain anything you buy from vendors. I once got earrings for my mother-in-law for 70% off from the original price! And the vendor still earned money!
Best season to travel to Istanbul?
The best time to travel is between May and October. However, the weather in April and November are still quite stable and comfortable. From December til next March is the winter season.
It might sound weird, but I did travel to Istanbul on December. And the weather was very good and sunny. I guessed I had luck on my trip.
How many days shall I spend in Istanbul?
Istanbul is quite large. It's also divided into Asian and European sides. If you don't have much time, say only have 2-3 days, I'd suggest you to stay on on the European side, since most of the sight-seeing spots are on this side. If you have more time, and you want to explore the city thoroughly, then you should stay 4-5 days.
How to go from the IST airport to the city?
Airport shuttle bus: Havaist Airport Shuttle 18 Lira/ one direction
Follow the direction sign at the airport. Buy the ticket at the ticket machine (I bought directly the Istanbul Card to pay for my ride).
The Istanbul Card itself costs 6 Lira. Then you can choose the amount you want to top up. If your hostel or hotel is like mine located in the old town Sultanahmet, you just need to look for the sign and the bus which shows the destination to Sultanahmet. Leave you luggages in the cabin, the driver will give you a number tag, so that you can get you bags back afterwards.
The drive was about an hour and the seats were quite comfortable. The bus stopped at the end in front of the Hagia Sofia. Here is also where you can take the shuttle bus back to the IST Airport. The bus runs 24 hours and leaves every 30 minutes. Here is the time table you can check: https://hava.ist/en/new-timetables
Where to stay in Istanbul?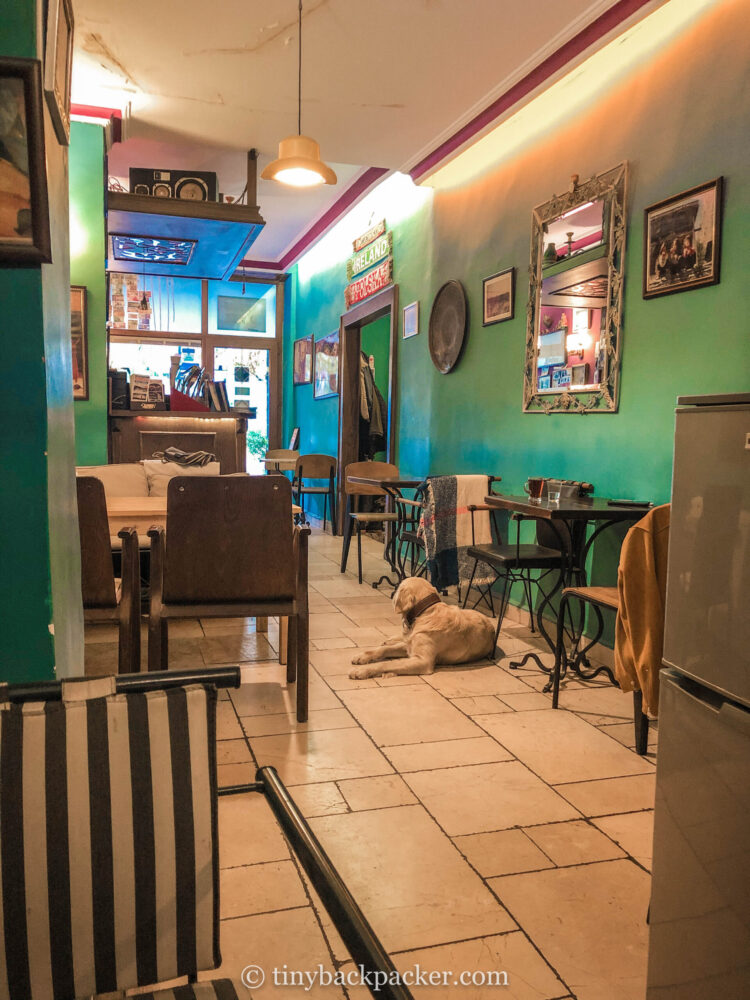 Cheers Hostel
One of the top 10 best hostels in the world!
Link to book: https://bit.ly/39CvmWt
Positives:
Centrally located
You can walk to most of the famous spots
Staff is very friendly
Price for dorm beds is really good, and breakfast is also included!
Get to meet some cool ppl
Roof top bar with a view to Hagia Sofia
They can organize trips for you
What to see in Istanbul?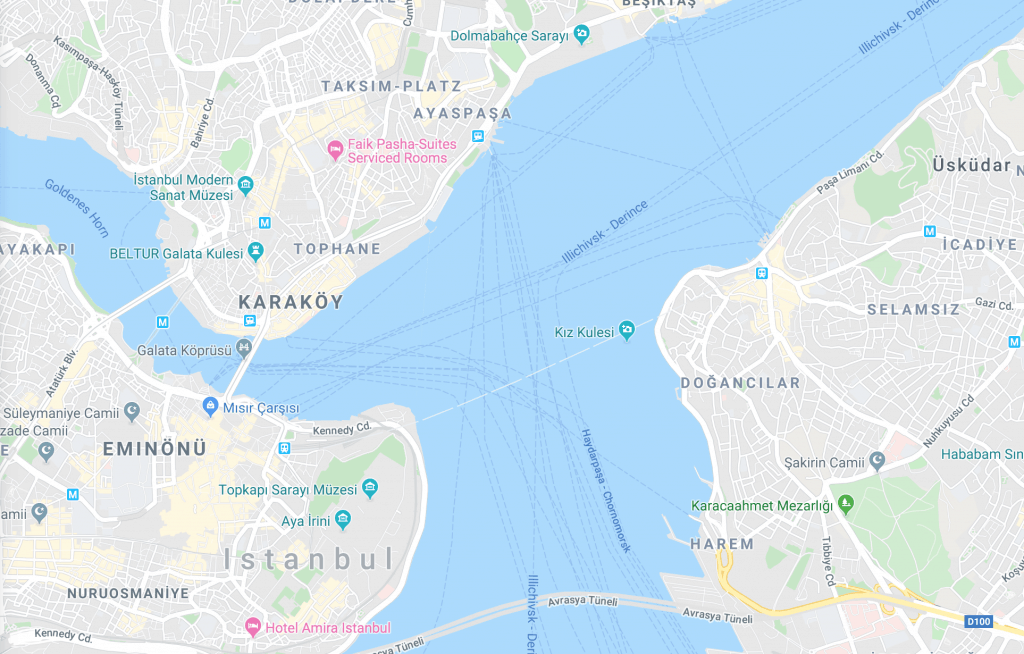 1. Sultanahmet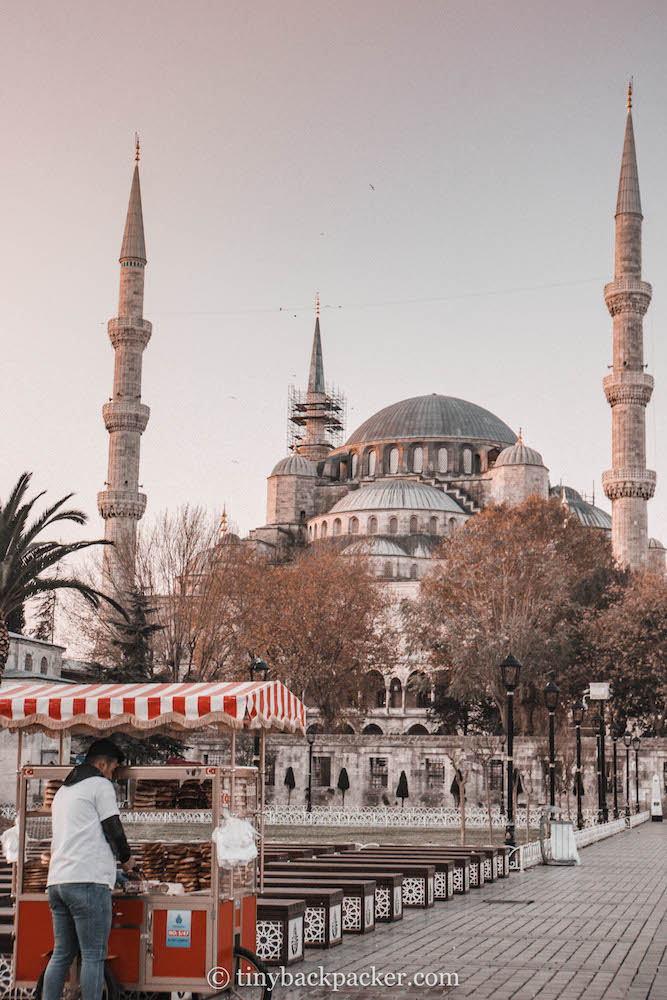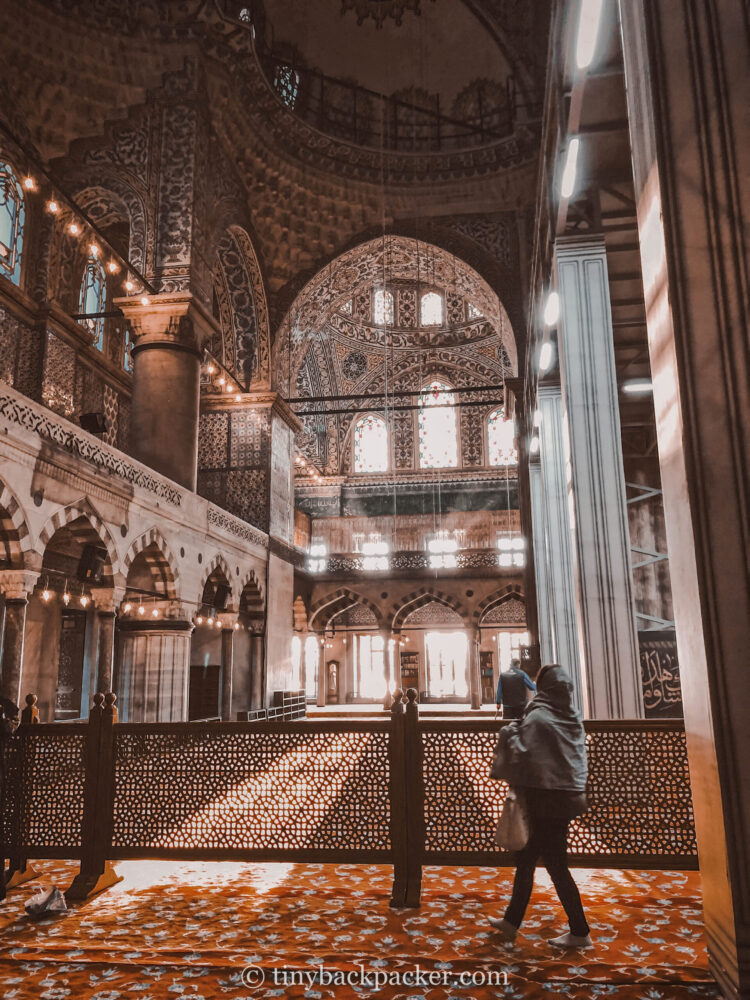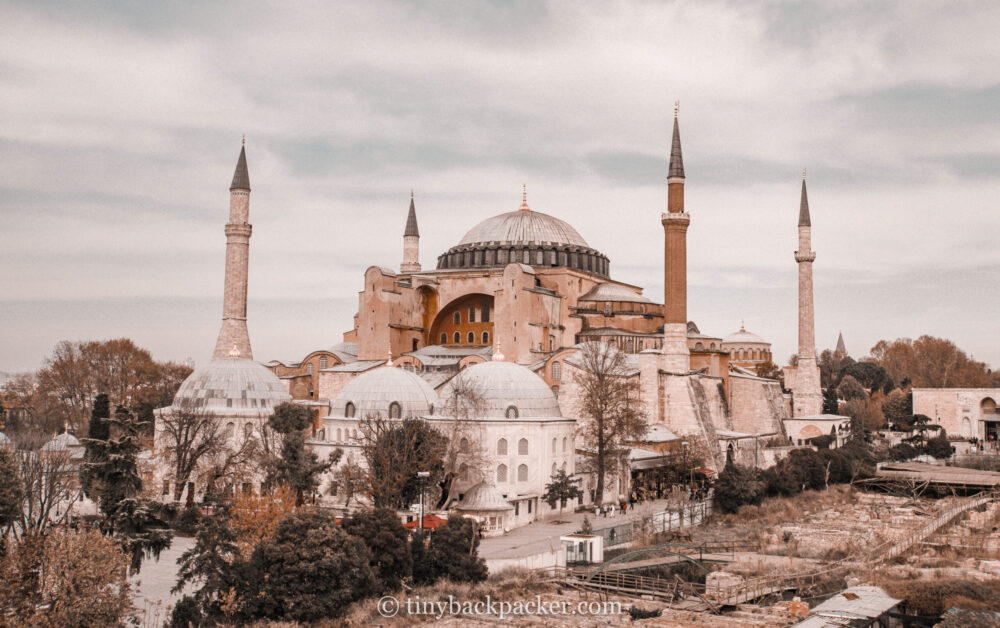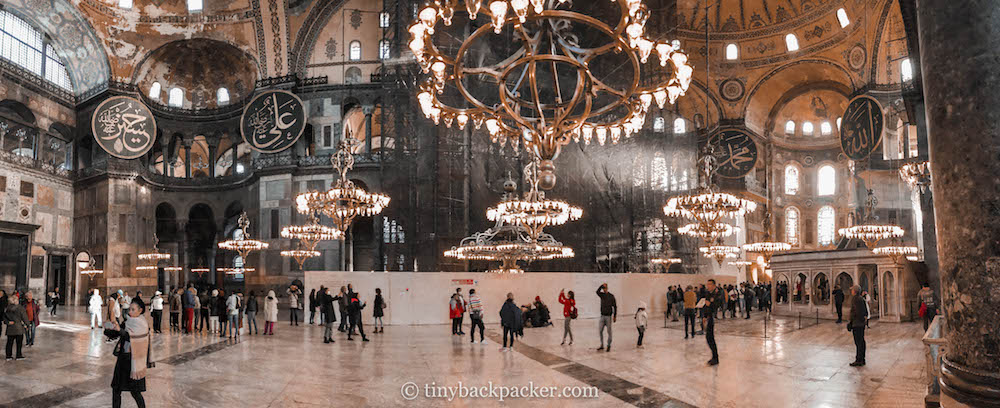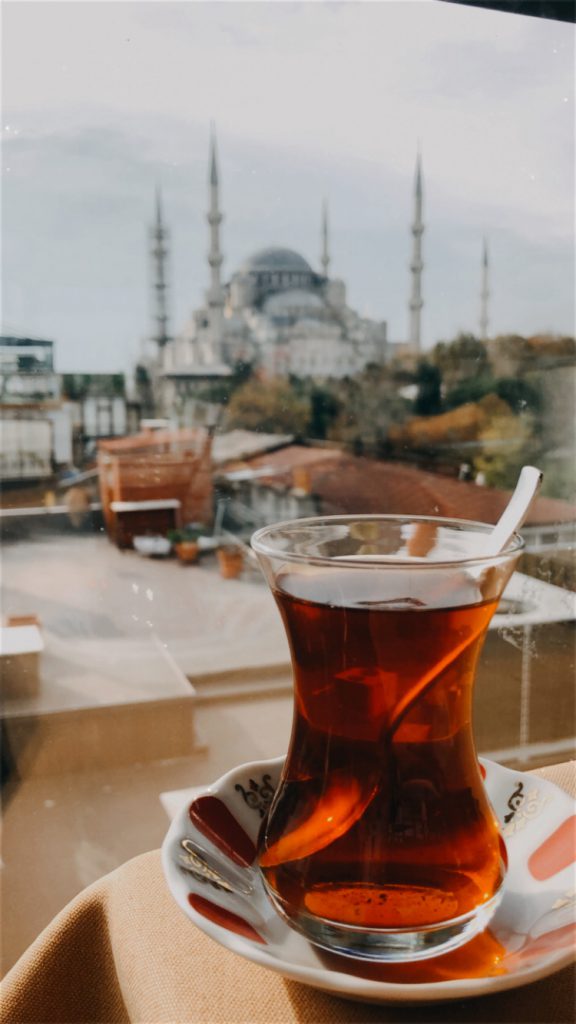 Hagia Sofia
It's a former Greek Orthodox cathedral and later Ottoman imperial mosque and now it's a museum. It's definitely a very interesting combination building where you can see mosaic arts of Jesus and Arabic signs at the meanwhile. You need to pay entrance fee, but it's worth the visit!
Blue Mosque
Hand-painted blue tiles adorn the mosque's interior walls. As a result, people named the mosque as Blue Mosque. When women visit the blue mosque, make sure to cover your hair and your shoulder. Don't worry if you forget to bring any scarf. There is a counter where you can borrow scarf.
Tip: I recommend you to visit the blue mosque before Hagia Sofia. Personally I found Hagia Sofia takes more time to visit and it's more magnificent than the Blue Mosque.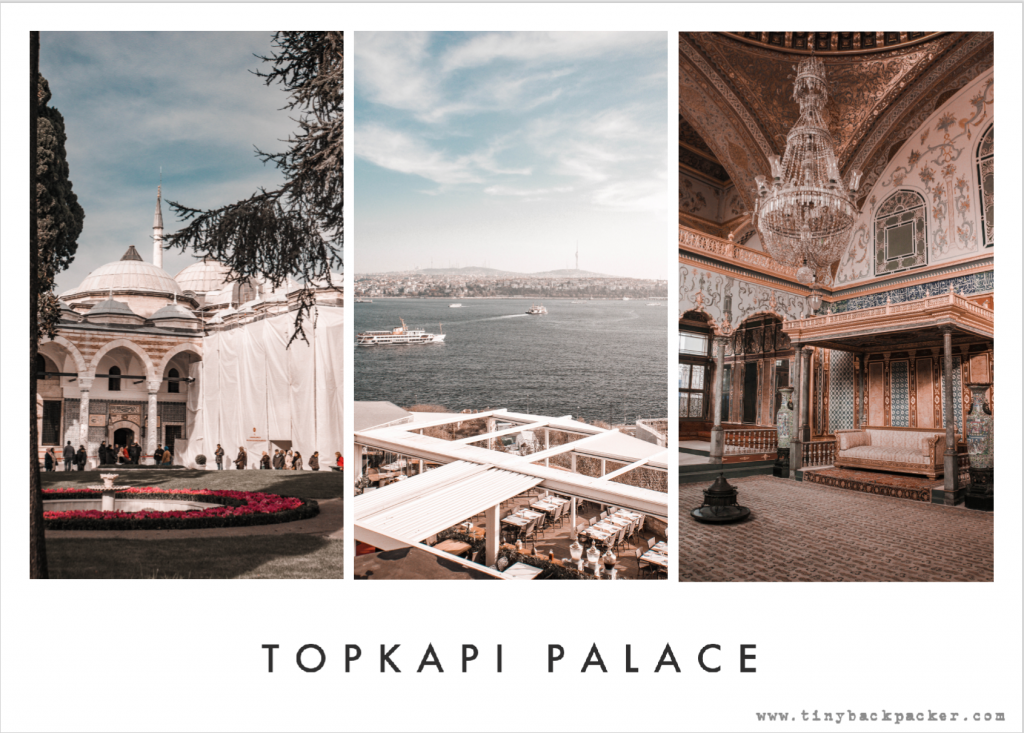 Topkapi Palace
It used to be served as the main residence and administrative headquarters of the Ottoman sultans. Right now it's one of the most-visited museums in Istanbul.
This museum is separated into two parts: One is Harem, where sultans and his family lived in the past and the other part is mainly consisted of many courtyards, whose functions included council, library, kitchens, gallery, kiosk and etc.
Normal entrance ticket doesn't include Harem, so you need to buy extra ticket to visit it. I visited both parts and I also rent an audio guide at the entrance to get to know the history better.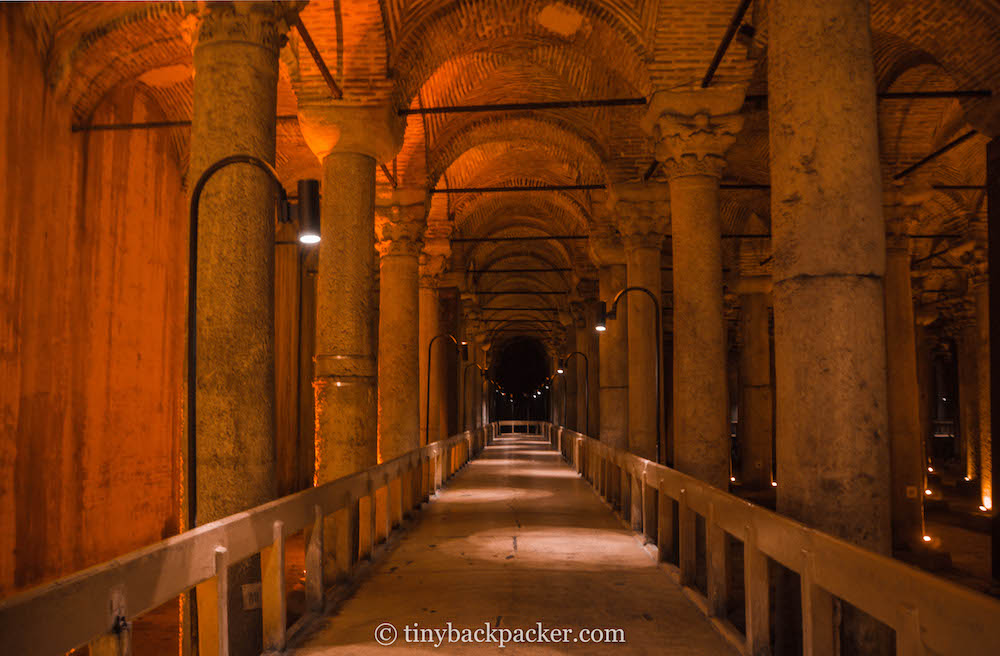 Basilica Cistern
It was built at 6th century during the reign of Byzantine Emperor Justinian I and served as the cistern in the past. Now you can barely see water inside. However, it's still interesting to see how ppl used to save water.
Tip: It's quite dark inside, so make sure to use long exposure to take pics.
2. Karaköy / Beyoğlu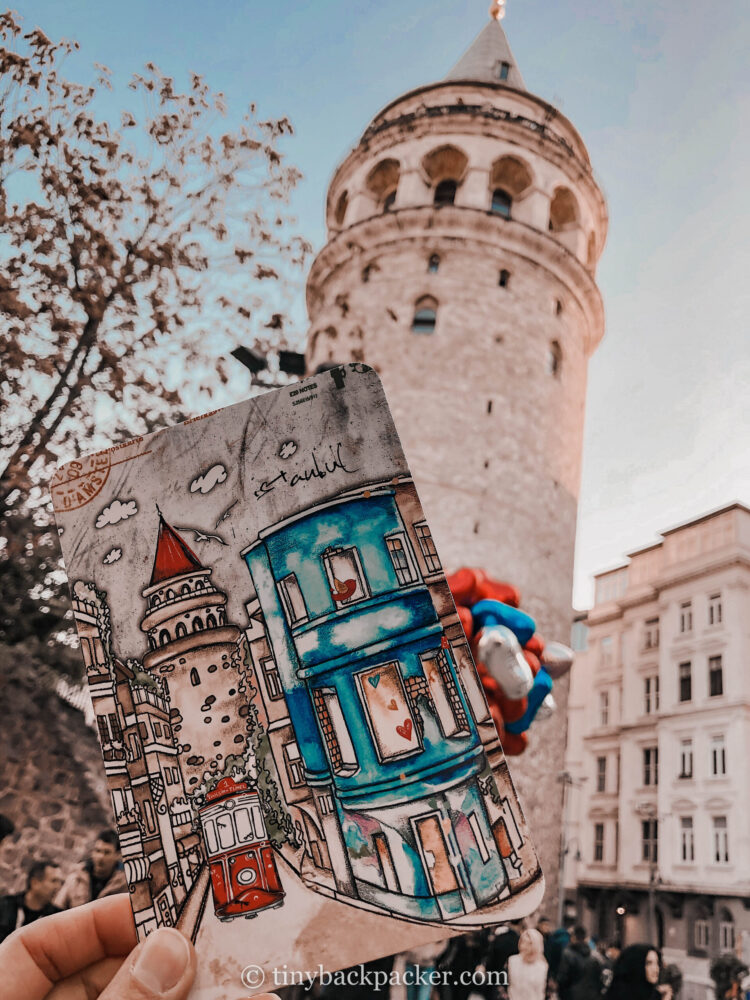 Galata Tower
It's a medieval stone tower and offers a panoramic view to the Golden's Horn and Bosphorus. On the top of Galata Tower, there is a restaurant where you can grab some food or drinks while you enjoy a good view of Istanbul.
After visiting the Galata Tower, there are many restaurants or Cafes nearby the tower where you can take a rest and watching lots of people passing through 😛
Galata Bridge
This bridge connects Eminönü in Fatih and Karaköy (Galata) in Beyoğlu. On the bridge you can see lots of locals fishing.
Tip: In the middle of the bridge, there are stairs leading to a platform where you can have a better view of Galata Tower. Moreover, you can also see Blue Mosque from far. Next to the platform, there are many restaurants where you can enjoy the night view.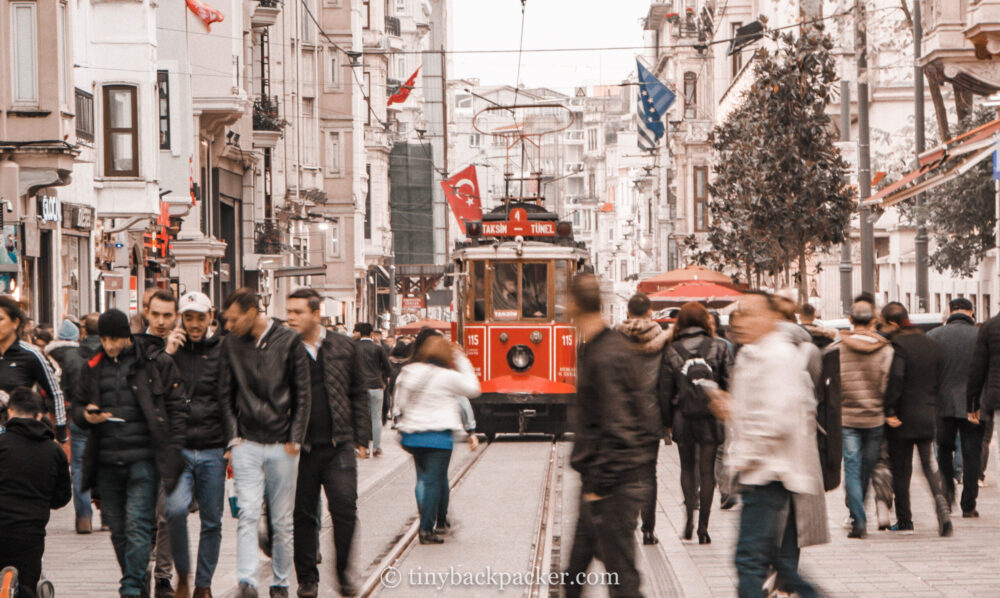 Taksim Sqaure
It's located in the European side of Istanbul and is a very large shopping district. If you like to go shopping, here is definitely the right place. Just follow the busy street İstiklal Caddesi.
3. Fatih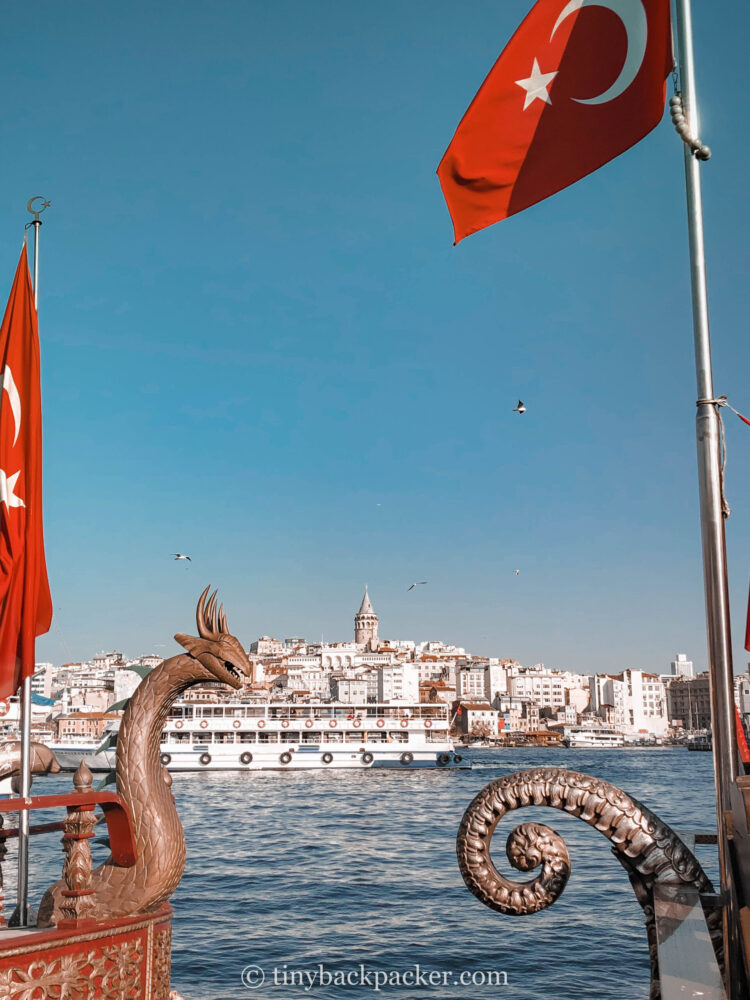 Grand Bazaar
This is one of the largest and oldest bazaar in the world. There are about 4000 shops in it. They mainly sell jewelries, carpets, lamps, spice and porcelain.
This place is one of the most touristic place in Istanbul. Therefore, please make sure you bargain when you buy anything.
Spice Bazaar
It's near the harbor Eminönü and very similar to Grand Bazaar. However, vendors sell mainly spice. At the end of the Spice Bazaar, it leads to anther outdoor shopping area, where the local vendors buy products in a great quantity.
Eminönü Harbor
It's a very busy harbor. You can take boats to cross Bosphorus to the Asian part of Istanbul. Also, there is a bus terminal where you can get on a bus to go to Balat or Fener.
One must-eat food at the harbor is the fish bread. It contains baguette, fish, lots of lettuce and onion. On the table of every food stand, there is a bottle of yellow liquid, which i guessed it's lemon sauce for the fish bread. You can either add it to your bread or eat like me pure 😛
Are you a person who dares to try new stuff? If yes, here is one drink you can try. Almost every food stand at the harbor is selling a pink juice with pickle and cabbage. (My opinion: It's very salty and very very interesting.)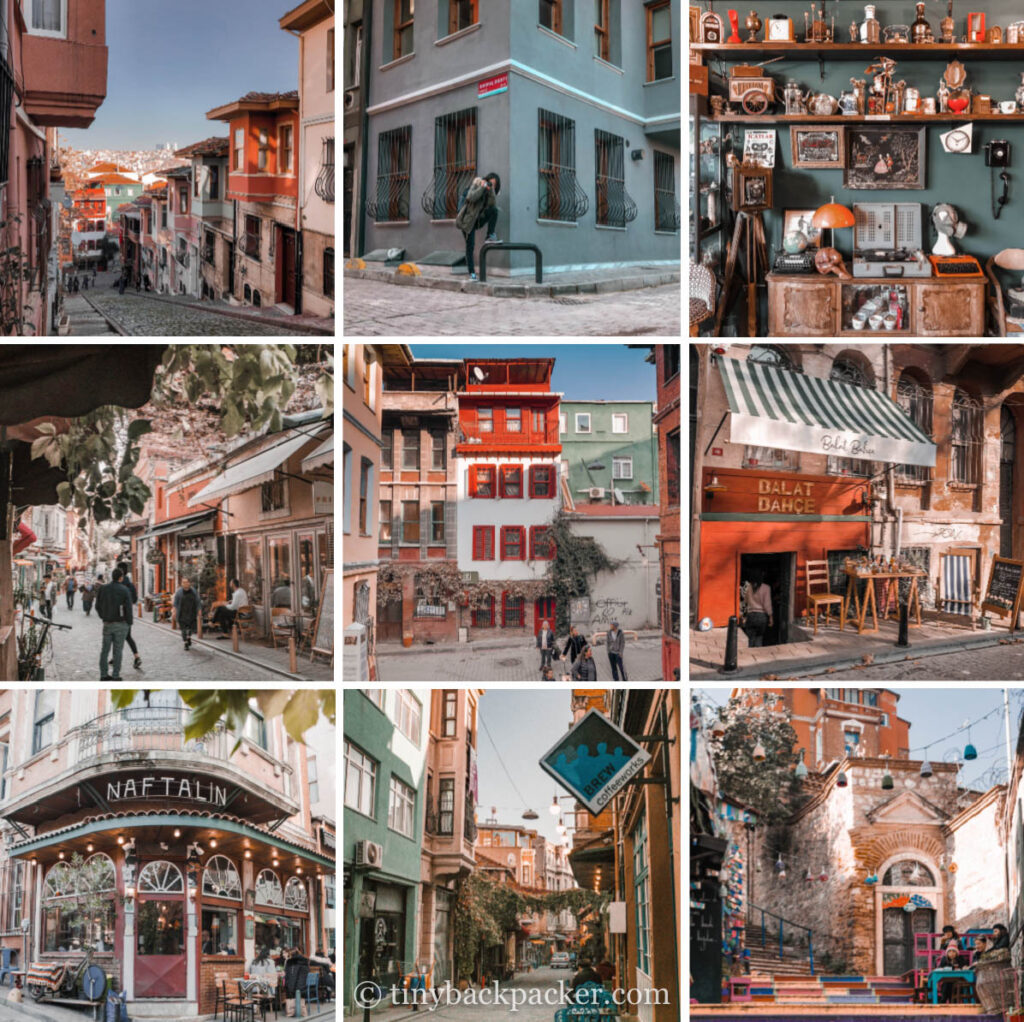 Balat & Fener
If you check on Instagram, these two places are the most popular places in Istanbul recently. There are many colorful and cute houses.
How to get there?
Just go to the bus terminal at the Eminönü harbor and take the bus to get off at Balat. I cannot tell you the exact route, since the most fun part of this adventure is to get lost and explore yourself.
Balat used to be a jewish quarter. After they moved back to Israel, many Anatolien from south east of Turkey moved here.
Fener, however, used to be a greek quarter. Although most of the greeks moved out, you can still see some greek cathedral or school.
Both places are connected to each other. Balat has more coloful houses. Fener, on the other hand, has more cafes and shops.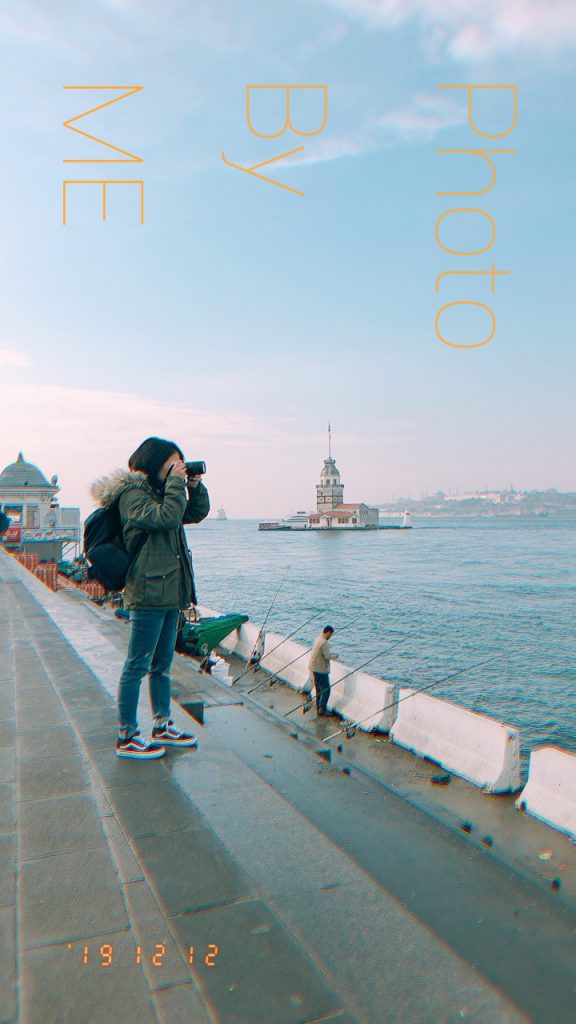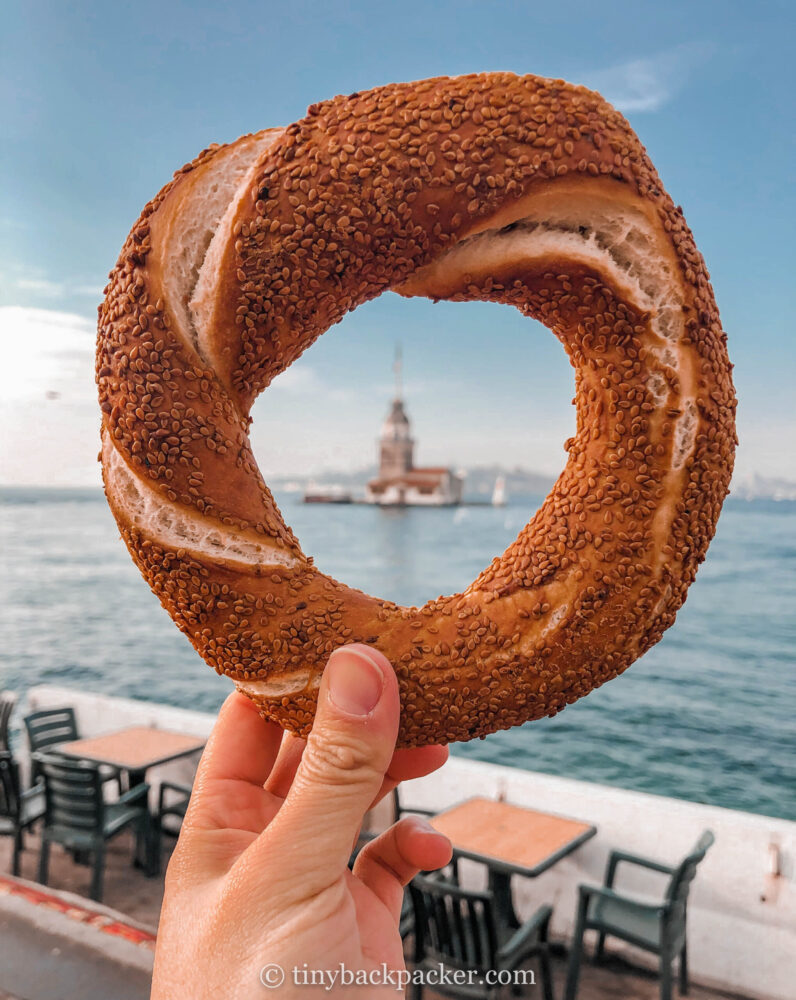 4. Üsküdar
How to go to Üsküdar from the old town?
You just have to go to the harbor Eminönü and take a boat with the destination to Üsküdar. (You can pay the ticket with Istanbul Card.)
The most famous sightseeing spot on the Asia part of Üsküdar is the Maiden's Tower. It was built from the medieval Byzantine period. The main function of the tower is light tower. However, there is also restaurant and Cafe inside the tower.
One of my favorite part of the visit to the Maiden's Tower is sitting along the promenade, enjoying the sunshine and having a cup of black tea with a simic.
5. Kadiköy
How to go to Kadiköy from Sultanahmet or Üsküdar?
From Sultanahmet: Take the boat from Eminönü.
From Üsküdar: Take the Marmaray from Üsküdar, transfer at the station Ayrilik Cesmesi, then take the metro M4 to Kadiköy.
Kadiköy is located on the Asian part of Istanbul. There are less tourists but more local people. The district is full of stores, restaurants and cafes.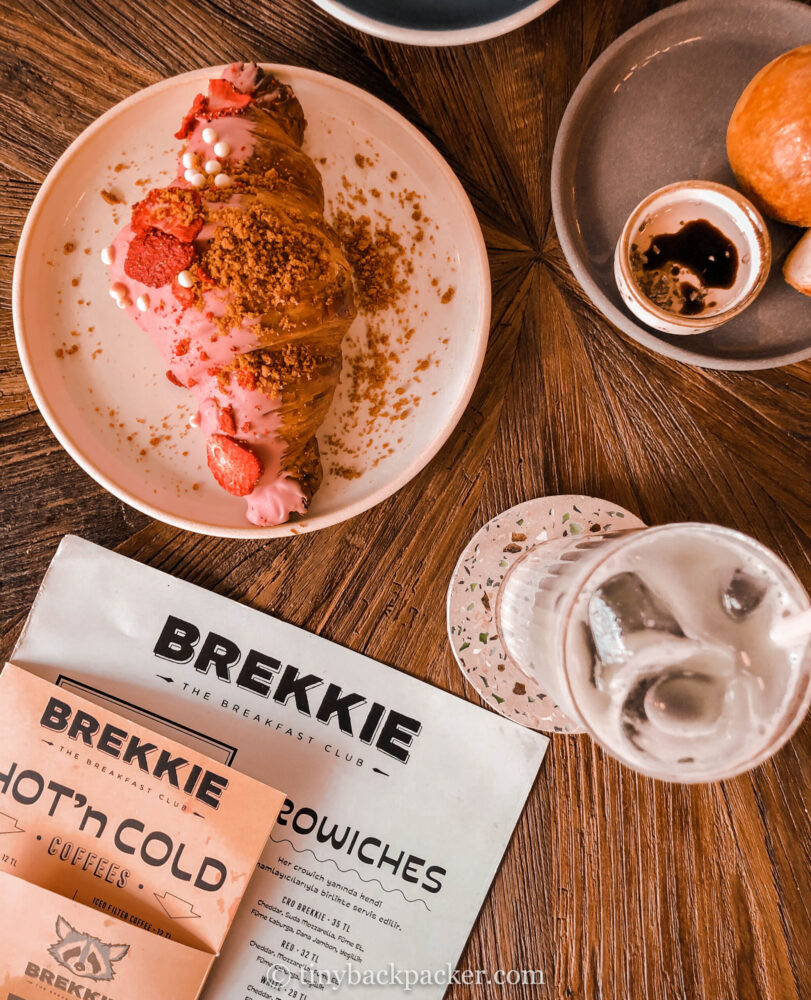 A little bit further, you may encounter another quieter district called Moda. It's mainly a residential area. However, there are many boutique Cafes. During my trip, I went to a nice Cafe called Brekkie Breakfast Club. Their highlight is definitely the croissants with many different flavors and materials. Their croissants can for sure compete to those in Paris or in France!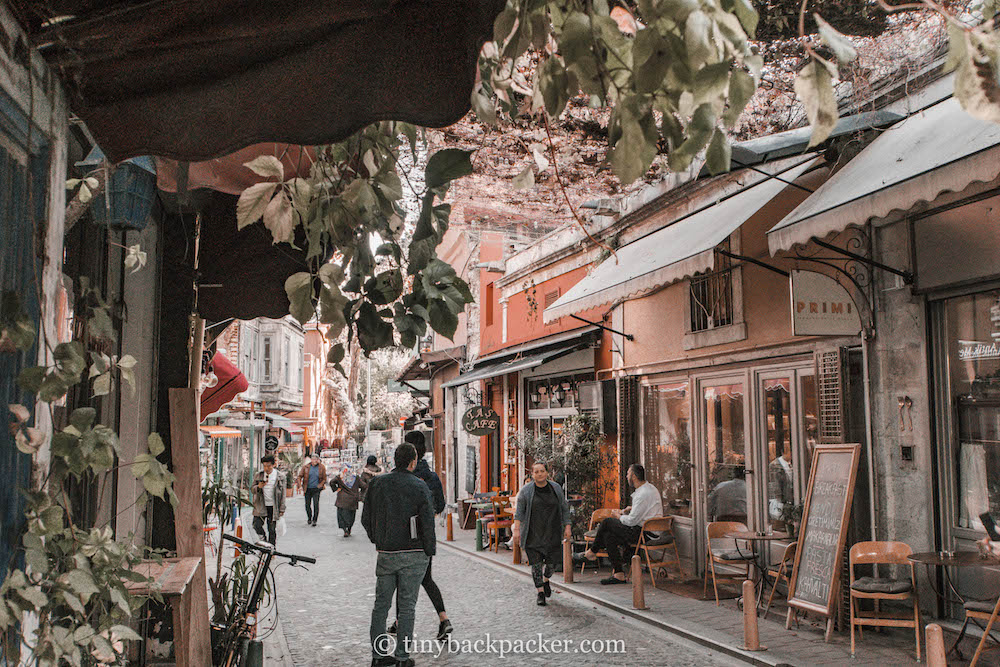 To sum up, the trip to Istanbul was really nice and comfortable. This city is very international, so you don't need to worry if no one speaks english. The public transportation is also very well spread. Most of locals are very friendly and helpful. Even the vendors are not so annoying. (They leave me alone if I passed by and ignored them.)
Prices are generally cheaper than any west European countries. If you are more interested in cultural and historical things, Istanbul is also a good choice.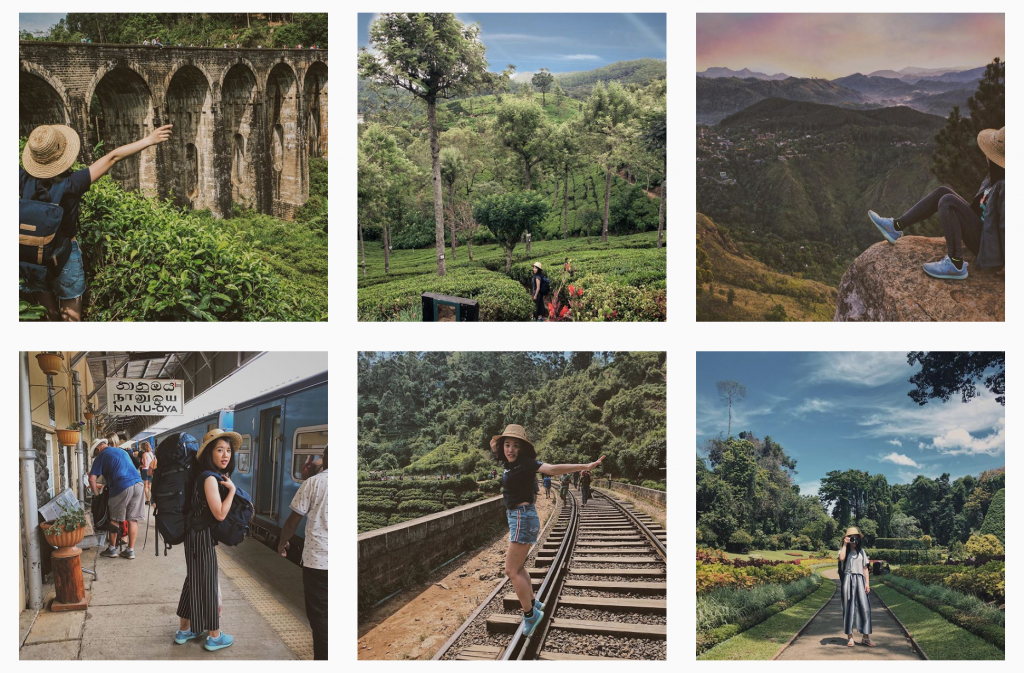 You can also find me:
臉書:跟著恬恬與Fabianㄧ起刮世界地圖
YOUTUBE頻道:INSI德R
INSTAGRAM: @tiny.backpacker
If you like my post, please do not hesitate to do me a favor and press the hand button for 5 times 🙂 FB or google log in makes the process quicker and easier!
You May Also Like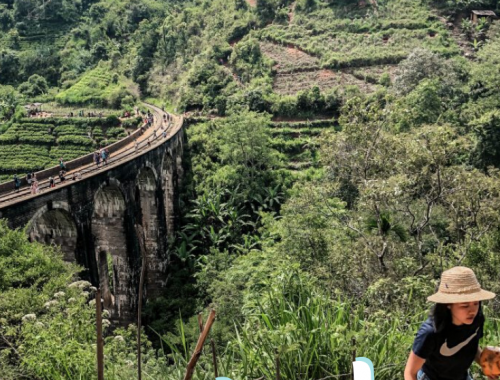 April 15, 2020