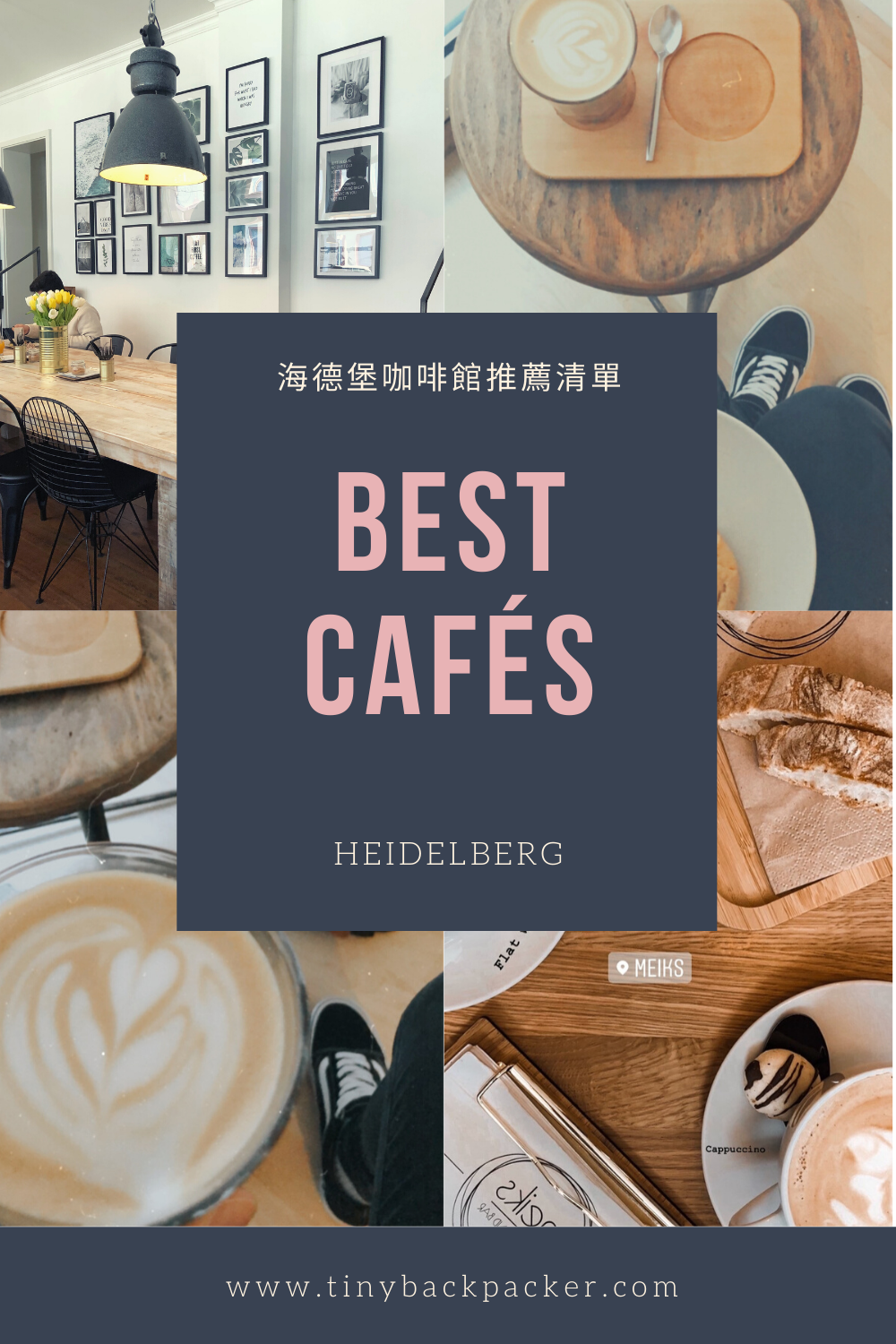 The best Cafés in Heidelberg
February 6, 2020
After I moved to Germany, I started to like to drink coffee. I like the smell of the coffee beans, and also the air after making a cup of coffee.
As a result, I like to explore Cafés everywhere I go. Luckily, there are many individual and unique cafés in Heidelberg. This article will share with you my lists about the best cafés in Heidelberg. (I will keep updated the post)
Just to be clear, the order of the list doesn't mean the ranking of the cafés I recommend. Everyone has their own tastes and every café deserve a chance to be visited.
# 1 Green Tea Café Konomi – Japanese style Matcha Café
Website: https://www.greentea-konomi.de/
Adresse: Plöck 75-77, 69117 Heidelberg
As a Taiwanese, it's easy to get and eat any matcha-related products from Japan in Taiwan. In Germany on the contrary, it's not so common and they don't usually taste authentic or delicious.
One day I accidentally found this café online and I visited it the very next day. It was a Wednesday and the café was packed with students and locals. I heard people speaking Germans, Japanese, Chinese or other languages.
On the counter, matcha cheesecakes, match layer cakes and other cookies or desserts are displayed. If you don't have a sweet tooth, you can also try out their sushi, noodles, rice balls, takoyaki and etc.
Overall, the food and drinks here are very authentic. Since they don't have many staff at the café, one needs to order and pay directly at the counter. After finishing the meals, you need to put the plates on a shelf.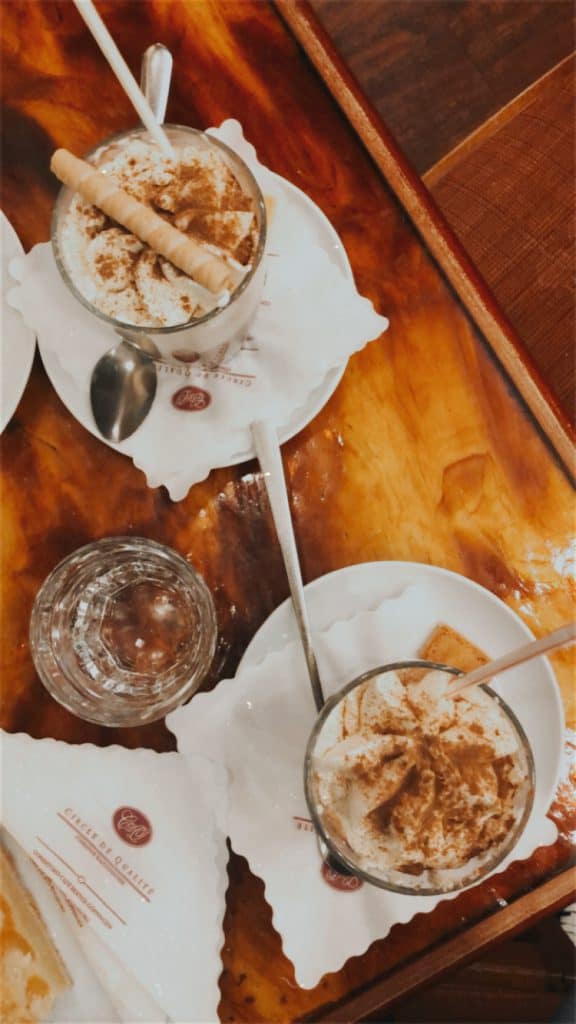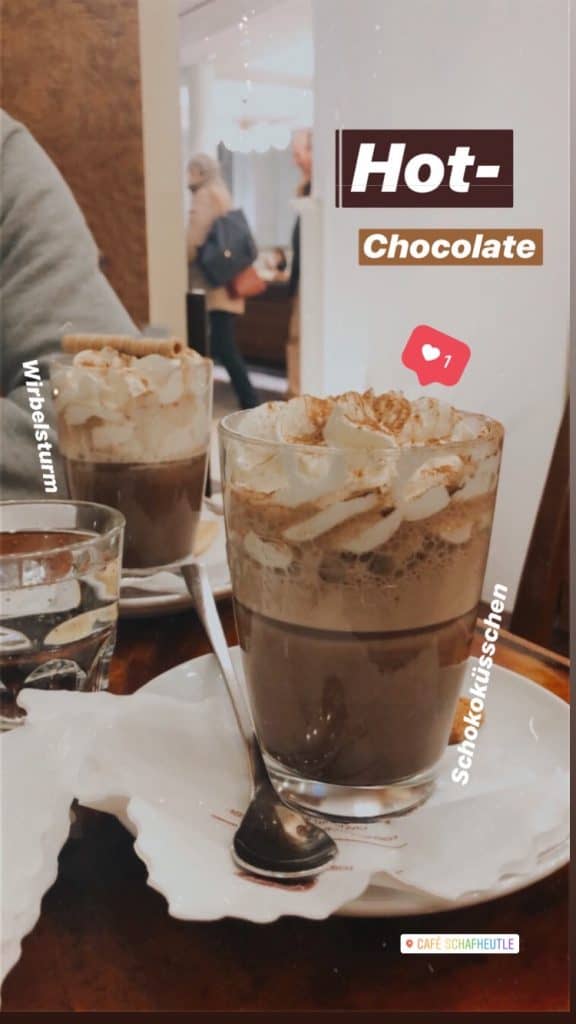 # 2 Conditorei-Café Schafheutle – operated by 4th generation
Website: https://www.cafe-schafheutle.de/
Adresse: Hauptstraße 94, 69117 Heidelberg
If you are looking for somewhere old and traditional, you might want to visit this Cafe, which is over 180 year-old. Operated by the 4th generation, Café Schafheutle offers many different kinds of cakes, chocolate, light meals, hearty breakfast and of course hot drinks like coffee and hot chocolate.
After entering the café, you will see directly a counter displaying lots of cakes. Pick your favorite one and tell the waiters at the desk. They will give you a receipt about what you just ordered by them.
Then, you can go look for seats. The place is large, however, it's usually very crowded on weekend. Just a tip from me, if you see someone paying their bill, stand directly nearby! And please be patient, if it takes a while to wait for the orders or payments. Waiters there are trying their best 😉
If you are like me, who also likes to drink hot chocolate, Café Schafheutle offers several different flavors of hot chocolate. They even have hot chocolate with different alcohol contents.
# 3 Kaffeezimmer – A cozy place to enjoy coffee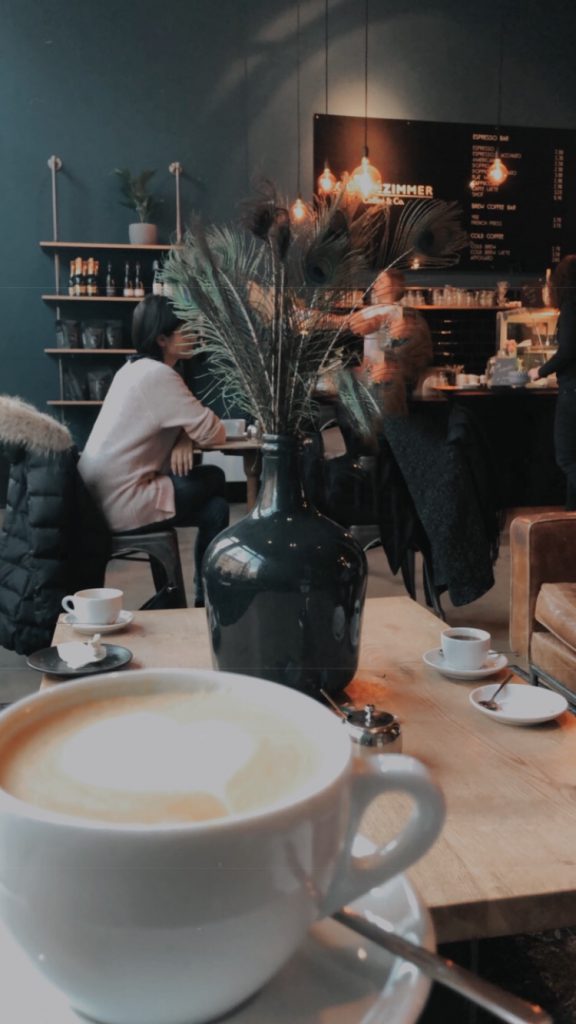 Not far from the city public library, Kaffeezimmer is located in an alley near the west city of Heidelberg. I was there on a weekday in the afternoon, and it was very crowded. Luckily I still got to found a seat on a couch sharing with a woman, who was also alone there, using her computer.
This café is specialized in coffee, so their menu has only classic coffee drinks, cold brews and limited snacks options (Bread or cakes). The atmosphere of the room is good. They decorated the place with different but harmonious furniture and offer their guests a place where they can feel like home and cozy.
For people who works remotely, Kaffeezimmer has wi-fi. Besides me, there were several people working on their pc concentratedly. There were also small groups of people or students chatting. I also saw mothers coming with their children.
Overall, this is a place for anyone. And everyone who's been here before, will like it.
Facebook: https://www.facebook.com/kaffeezimmer.heidelberg/
Website: https://www.kaffeezimmer.de/
Adresse: Bahnhofstraße 34, 69115 Heidelberg
# 4 Chocolaterie YilliY – Special Hot Chocolate flavors
Facebook: https://www.facebook.com/Chocolaterieyilliy/
Website: https://chocolaterie-heidelberg.de/
Adresse: Haspelgasse 7, 69117 Heidelberg
Have you even had a cup of hot chocolate with a churro in Spain for breakfast? The hot chocolate at the food stand in Spain was a little bit thick. You can also drink this kind of hot chocolate in Heidelberg.
Chocolaterie YilliY offer not only this kind of thick hot chocolate, they also have normal hot chocolate (warm milk with a chocolate bar). Moreover, besides the normal flavors, they have some special unusual chocolate bars like chile, nuts and etc.
If you happen to be in Heidelberg and around the old bridge, go visit this cozy cute little café nearby.
# 5 Coffee Nerd – Coffee with light roasted beans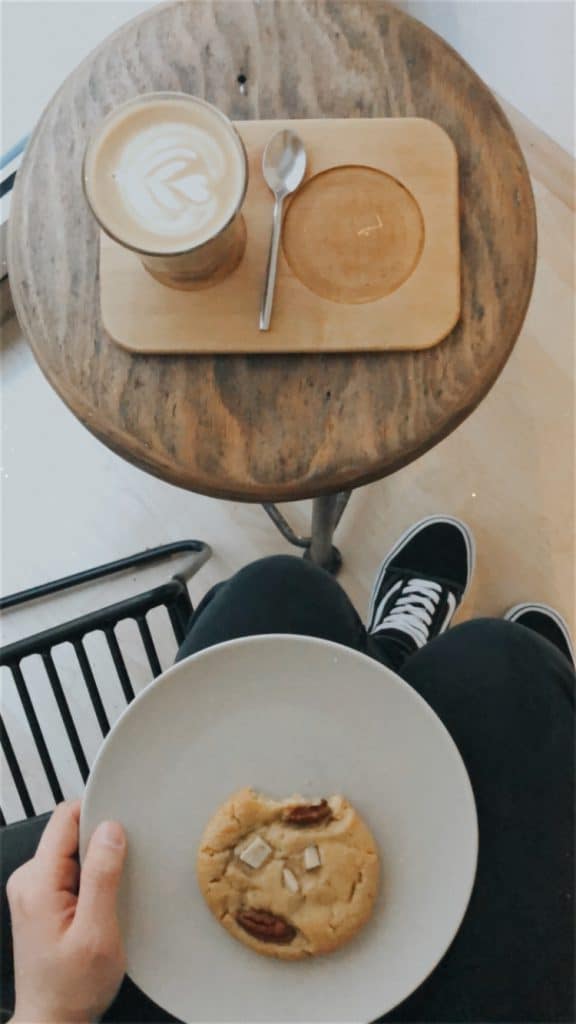 One cannot pass by Coffee Nerd without noticing their wood bicycle on the display window. After hearing some positive feedbacks from colleagues and reading an article about this place, I decided to pay a visit.
After ordering my coffee and cookie at the counter and paid, I went to find a seat. At the end, I decided to sit on the attic. I ordered a latte, which tasted a little bit sour. But that's what the owner likes his coffee to be. According to him, one can taste with light-roasted coffee beans more aroma and flavor to their coffee.
The overall experience was good. I like the atmosphere, especially how they furnished their place. There are interesting paintings/ pictures on the wall. They also have books for adults or children on shelves. Moreover, some of the chairs are equipped with comfortable cushions, so that one can sit quite long with comfortable position.
(Though this place is not that large compared to other cafés, I have to warn you about the waiting time.)
Facebook: https://www.facebook.com/coffeenerd.heidelberg
Website: http://www.coffeenerd.de/
Adresse: Rohrbacher Str. 9, 69115 Heidelberg
# 6 Café Nomad Heidelberg – tiny Café in the west city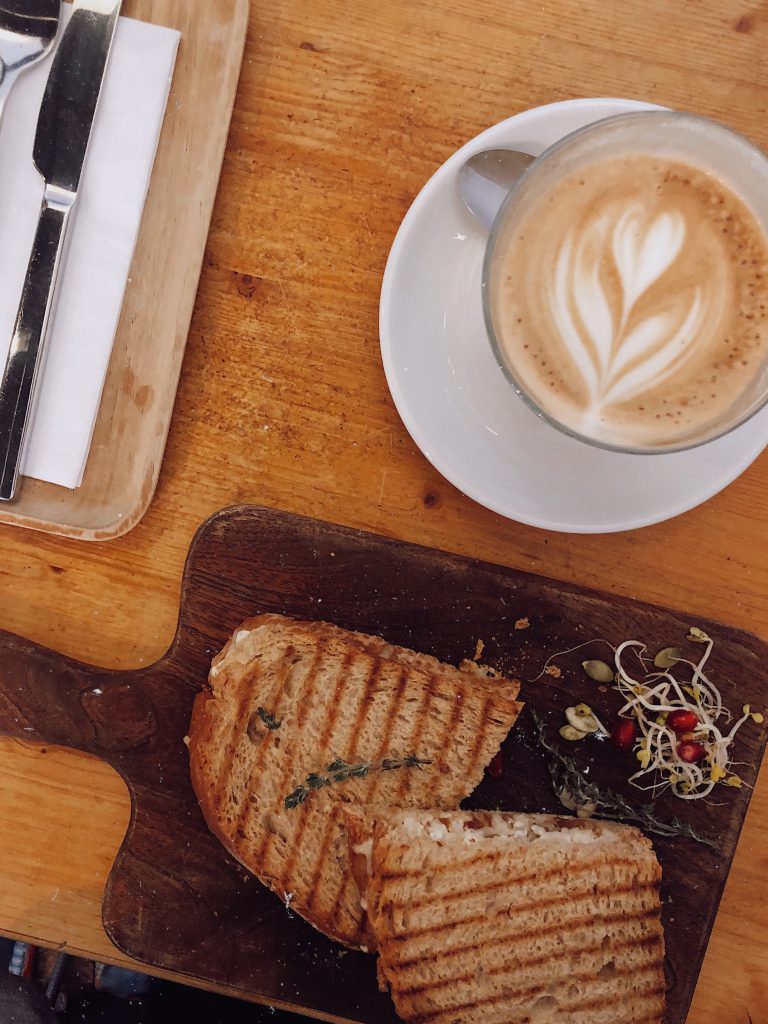 Once I asked my colleague from Heidelberg, if she can recommend me any cafés in Heidelberg. The first one came to her mind is Café Nomad.
I went to the Café Nomad in Weststadt. The place is quite small, and it's usually full, so it might occur to you that you have to wait til someone leaves.
Besides the normal coffee choices, they also offer food like bagel, yogurt, sandwiches, and oatmeals. Most of the materials are regional with qualities. I tried a sandwich named "Guess who's back" which contains toasted bread, caramelized onions, home-made mustard and the Gruyère cheese from Switzerland. It was delicious if you like the mixture of sweet and salty taste.
Facebook: https://www.facebook.com/nomadheidelberg/
Website: https://www.nomad-heidelberg.de/
Adresse: 49 Rohrbacher Straße, 69115 Heidelberg
Another reason why people like to visit Café Nomad is because they have yummy and instagrammable breakfast bowls. They look all colorful and are perfectly placed. Since most of the food are freshly made, it might take some time but it's totally worth it.
The place itself is very cozy. Onto the wall are seats with cushion and pillows. On the other side of the table are normal chairs. They also have high tables at the back of the café.
My only wish is that the place would not be that full all the time 😛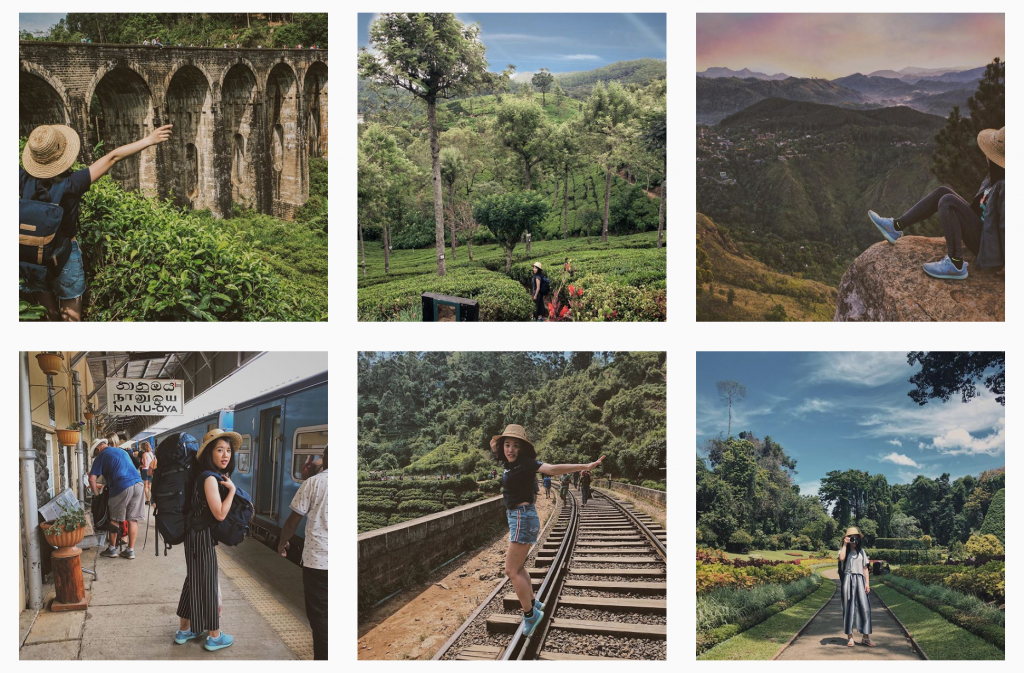 You can also find me:
FACEBOOK:跟著恬恬與Fabianㄧ起刮世界地圖
YOUTUBE頻道:INSI德R
INSTAGRAM: @tiny.backpacker
You May Also Like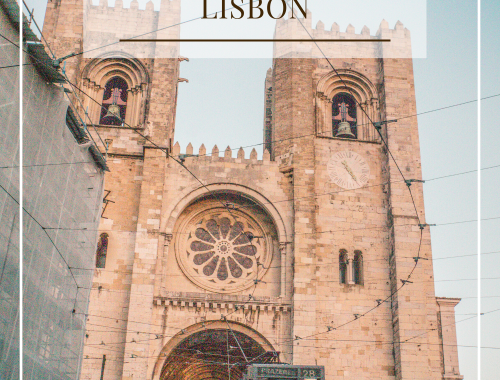 May 11, 2020
June 3, 2020
June 1, 2020